The bad blood between the New York Yankees and the toronto blue jays it continued Thursday in the final game of their four-game series.
yankees manager Aaron Boone appeared to yell at Blue Jays pitching coach Pete Walker on Thursday during New York's 4-2 win.
«You're f——- crazy. You're crazy,» Boone seemed to yell. «Sit down, Pete.»
DODGERS FAN KNOCKS UNCONSCIOUS DURING FIGHT OUTSIDE STADIUM
After the game, Boone said that Walker was yelling at him. Yankees third base coach Louis Rojas.
«Oh, I don't know. He was yelling at Luis again,» Boone said, according to NJ.com. «I'm glad we're leaving. He was trying to keep me out of [interacting with their] dugout and I violated my own rules with our guys, so I apologize for that.»
The four-game series was filled with screeching from both sides, beginning in the first game when the Blue Jays Broadcast The team detected Aaron Judge leaning into his own dugout during an at-bat, hinting that Judge was stealing signs.
CLICK HERE FOR MORE SPORTS COVERAGE ON FOXNEWS.COM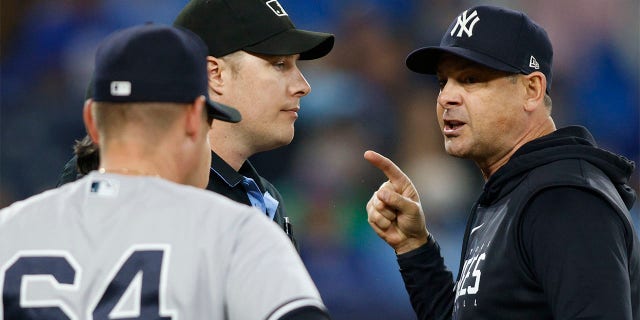 In the second game, Yankees pitcher Domingo Germán he was ejected for using a sticky substance and was later issued a 10-game suspension by Major League Baseball.
After all was said and done, the Yankees won three of Toronto's four games, and the two teams They will not have to see each other again until September 19.
CLICK HERE TO GET THE FOX NEWS APP
«When you continually play one team over and over again, it starts to get a little annoying,» Yankees outfielder Aaron Hicks said. «Now that we don't see them for a while, it's good. You can play other teams.»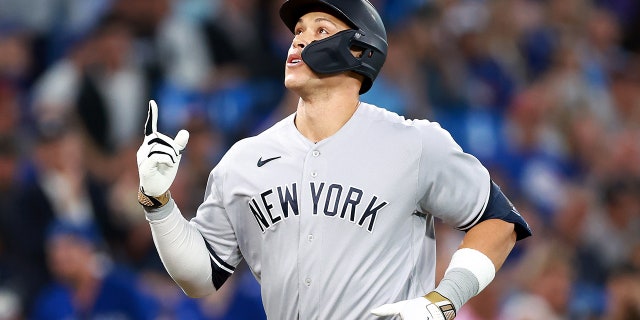 Judge was locked in through every series despite the antics, hitting four home runs and driving in seven runs.
«I'm just trying to do my job,» Judge said. «I was upset, but I can't do anything about it. I still have to go out there and play.»
Associated Press contributed to this report.