William Byron overcame a spin early in the second stage that dropped him a lap and was then in the right position when the weather took control at Atlanta Motor Speedway.
Byron won the rain-shortened NASCAR race at Atlanta on Sunday night for his series-leading fourth win of the season. It was the second win at Atlanta in the past two years for Byron, who took the NASCAR points lead.
Byron said it was «sort of pins and needles» after his team made changes to its No. 24 Hendricks Motorsports Chevrolet that had been damaged by the spin.
CLICK HERE FOR MORE SPORTS COVERAGE ON FOXNEWS.COM
«When I turned, I was like here we go,» Byron said. «…It wasn't good at the time. We lost a lap, we changed tires.»
The threat of rain affected strategy, as the drivers struggled to move to the front of the field before weather delayed or ended the race.
On lap 185, with 75 laps to go, NASCAR ordered the cars to pit due to rain and the possibility of lightning. The cars were covered while officers waited to see if the rain would stop.
Just six minutes later, fans were warned of severe weather within eight miles of the track and encouraged to leave the stadium immediately, with NASCAR calling the race shortly after that announcement.
«I'm 1000% okay with erring on the side of caution,» said Kyle Bush, who finished fifth.
Daniel Suárez, looking for his first victory of 2023, was second. AJ Allmendinger was third, followed by Michael McDowell.
NASCAR'S BUBBA WALLACE TARGETS THOSE UNWILLING TO CHANGE AS THE SPORT SUPPORTS INCLUSION AND ENCOURAGES EFFORTS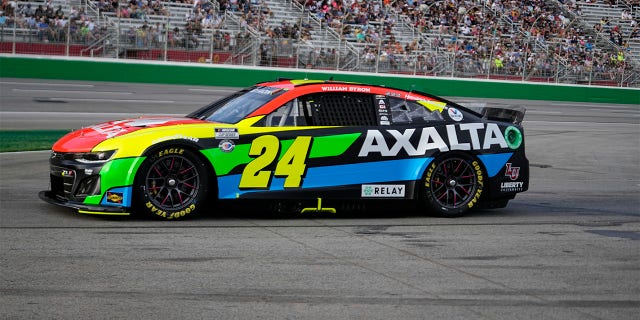 Suarez said he had «a bit of mixed feelings» about NASCAR's decision to end the race.
«I wish we had one more chance to get ahead and then it could rain all it wants,» Suárez said with a laugh.
The race became official after 130 laps. After that, the weather watch greatly influenced the race strategy.
«We knew it was going to rain,» McDowell said. «We wanted to give ourselves the best chance to win the race.»
Kevin Harvick, a three-time Atlanta winner, spun with 89 laps remaining. Harvick was able to drive to pit road without a caution, but the spin ended his hopes of winning in his final race at Atlanta.
The increased threat of rain put a greater emphasis on the drivers to compete for the top spots in the second stage, perhaps contributing to two crashes that knocked out Ross Chastain, Kyle Larson and Austin Hill.
Denny Hamlin and Alex Bowman were involved in another crash late in the second stage, leaving Brad Keselowski and Ryan Blaney at the front of the pack. The stage ended under a warning.
SHANE VAN GISBERGEN'S NASCAR MOVE COULD ARRIVE BY 2024, GETS SUPPORT FROM SUPERCARS BOSS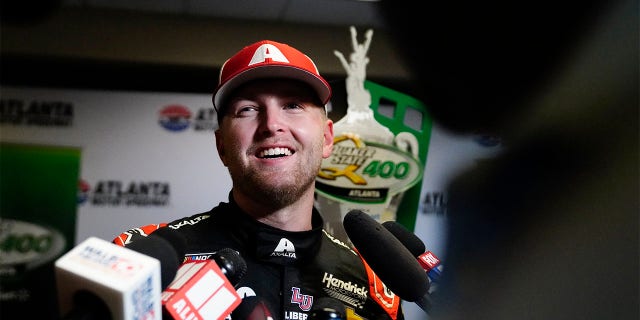 Despite the stage win, Keselowski was left with a big decision as he spoke to his team about the threat of rain and the possibility of staying on track. He chose to pit for fuel, saying he had no real choice.
«No, we had 12 to 14 laps of fuel left and that wasn't enough and we ended up running 15 laps or so,» Keselowski said. «I think we made the right decision. We only needed it to rain 10 minutes before or 10 minutes after.»
A collision between Bubba Wallace and Ryan Preece brought out another caution early in the final stage, leaving Byron in the lead, ahead of Suárez.
POLE-WINNER ALMIROLA 18
Aric Almirola, who won the pole, led the first 39 laps before being passed by Joey Logano for the first time. Blaney held off Larson to win the first stage. Almirola finished 18th.
Chase Elliott, still looking for his first win of the season, finished 13th. Elliott won for the first time at his home Atlanta track in the 2022 summer race.
SHANE VAN GISBERGEN CAPTURES HISTORIC FIRST WIN ON CHICAGO STREET FIELD IN DEBUT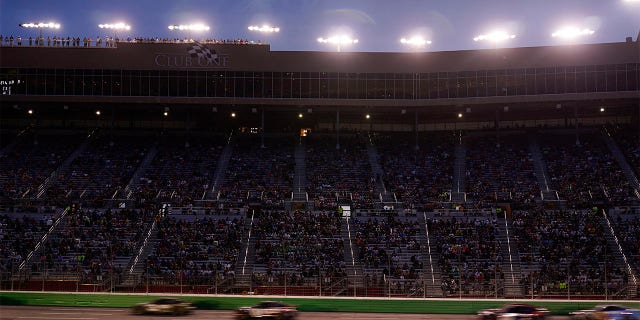 HARVICK RETURNS TO AMS ON 29
Harvick's first NASCAR win came on March 12, 2001, at Atlanta Motor Speedway in a No. 29 Chevrolet originally built for Dale Earnhardt Sr. before Earnhardt was killed in a crash in the Daytona 500 weeks earlier.
The 29ers returned to AMS, this time driven by grand quarterback Richard Childress, 77, who owned Harvick's team in 2001. With Harvick's No. 4 Ford driving alongside him, Childress led the field about the track to the green flag for Sunday. night race. Childress held up three fingers in tribute to Earnhardt after entering pit road, just as Harvick did after winning in 2001. Some fans responded to Childress with his own three-fingered tribute to Earnhardt.
«I couldn't be more excited to see him take the course to the green and I know how excited Richard is,» Harvick said Saturday. «I'm excited too, but Richard has been very excited to drive it and that makes me happy too.»
BELL SENT TO THE BACK OF THE FIELD
Chris Sherwood, the crew chief for Christopher Bell's No. 20 Toyota, was ejected before the race and Bell had to start at the back of the field in 36th place due to unapproved adjustments to the car on Sunday afternoon. It wasn't much of a blow to Bell's chances; he qualified 34th in the field of 37 cars.
Bell tore through the field to finish the first stage sixth, but finished 23rd.
CLICK HERE TO GET THE FOX NEWS APP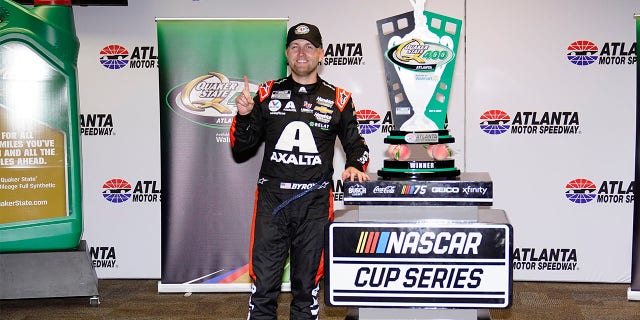 UNTIL NEXT TIME
The NASCAR Cup Series moves to New Hampshire Motor Speedway in Loudon next Sunday.