Matt Turner told his American teammates not to worry when their match against Canada ended in penalty kicks.
«He had the last word before we even went out on the field,» interim USA coach BJ Callaghan said. «It's just encouraging guys to stay calm, stay committed to what they've practised.»
Turner saved two penalty kicks and the American beat Canada 3-2 on penalties following a 2-2 draw Sunday night for a spot in the CONCACAF Gold Cup semifinal against Panama. The United States had not won a shootout since 2005.
CLICK HERE FOR MORE SPORTS COVERAGE ON FOXNEWS.COM
«A lot of the penalties that I had seen on my sheets or in my preparation, most of those guys were off the field when the penalties came,» Turner said. «I just trusted my instincts, really, and usually when I do that, I find myself having a lot more success.»
Brandon Vázquez gave the USA a 1-0 lead in the 88th minute, but Steven Vitória tied the score in the third minute of stoppage time with a penalty kick after a handball on Miles Robinson. Jacob Shaffelburg put Canada ahead in the 109th, but an own goal by Canadian Scott Kennedy made it 2–2 in the 115th.
Turner saved Vitória's initial penalty kick with his right hand as Vitória fired down the middle, as he did in regulation time. Vazquez dodged his attempt over the crossbar and Turner dove left to deflect Liam Fraser's attempt.
«He's really a groundbreaking force in the back of the US,» Canada coach John Herdman said. «He has wonderful feet. His game management is very good and he can save penalties.»
Cade Cowell, Gianluca Busio and Jesús Ferreira scored for the USA, while Kamal Miller and Jacen Russell-Rowe scored for Canada. Charles-Andreas Brym sent Canada's last attempt over the crossbar.
SOCCER ICON MEGAN RAPINOE SAYS SHE WILL RETIRE AT END OF SEASON: 'I FEEL INCREDIBLY GRATEFUL'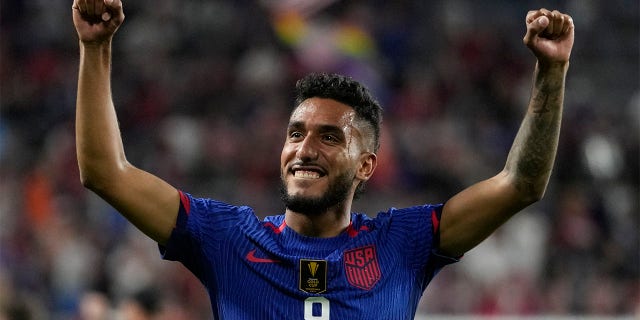 The winner of the United States-Panama match on Wednesday in San Diego advances to the championship match on July 16 against either Mexico or Jamaica in Inglewood, California.
The Americans have reached 12 straight Gold Cup semifinals. Going to a shootout for the first time since losing to Panama in the 2015 Gold Cup third-place matchup, the Americans improved to 5-4 in games decided by penalty kicks, including 5-2 in competitive matches. They had not won a shootout since beating Panama in the 2005 Gold Cup final.
Vázquez had put the US ahead with a header from a looping cross from DeJuan Jones. At his home stadium where he plays for Cincinnati, Vázquez scored his fourth international goal and third of the tournament. He had entered in the 73rd minute.
Vitória tied the score with his fifth international goal. Robinson was called for the penalty by Mexican referee Marco Ortíz following a video review of a ball bouncing off the defender's arm as Robinson was challenging Rowe. Ortíz refused to award a penalty after a video review of a ball to Robinson's arm in first half stoppage time.
CLICK HERE TO GET THE FOX NEWS APP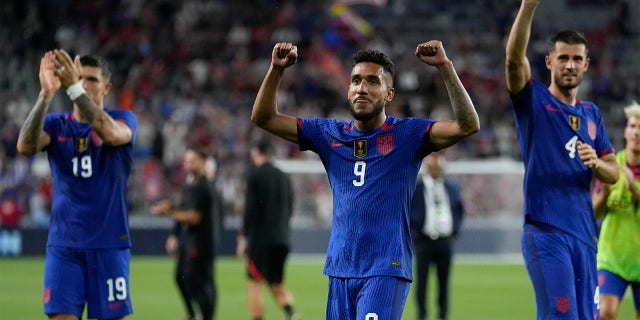 Shaffelburg gave Canada the lead when he picked up a fumble near midfield and dribbled past Ferreira. From inside the penalty area, Shaffelburg sent a shot deflecting off defender Matt Miazga's calf for his first international goal.
Turner sent the ball from midfield into the penalty area. Miazga centered a header on Jordan Morris, who headed straight on. Dayne St. Clair made a save on Busio's leg, but the shot deflected past defender Kennedy into an own goal.
In the opening game, Jamaica beat Guatemala 1-0 on a 51st-minute Amari'i Bell goal. The defender scored from a Demarai Gray pass with a right-footed kick from 8 meters for his first international goal. Jamaica will play Mexico in Las Vegas on Wednesday.