Rodney Terry stopped by on the way to the Texas locker room after his team eliminated Xavier for a spot in the Elite Eight, the interim coach granting a fan's wish for a photo showing the all-too-familiar «Hook 'em Horns» sign .
«Go get that job, Coach!» the grateful fan called after him.
A couple more wins, and the people of Texas might not have a choice.
CLICK HERE FOR MORE SPORTS COVERAGE ON FOXNEWS.COM
The longtime assistant made his boldest statement yet for the full-time concert, leading the Longhorns without ailing big man Dylan Disu to an 83-71 victory over the Musketeers on Friday night.
Tyrese Hunter scored 19 points, and Marcus Carr and Christian Bishop each added 18, to move second-seeded Texas within a game of the Final Four for the first time in 15 years.
SAN DIEGO STATE COMES BACK FROM 9-POINT DEFICIT TO ALABAMA RUGGED, HEADS TO ELITE 8
«I think we played one of our best defensive games tonight that we've played all year,» said Terry, who took over the top job in December when Chris Beard was suspended and ultimately fired following domestic violence allegations.
«Proud of my guys and the way they put their will into this game from start to finish.»
Disu, who had dominated the first two games of the tournament, hurt his foot in the second round win over Penn State. He received treatment throughout the week, and the Longhorns successfully kept it under wraps until early in the game, when the big man played for just a couple of minutes and then limped off the floor and headed straight for the locker room.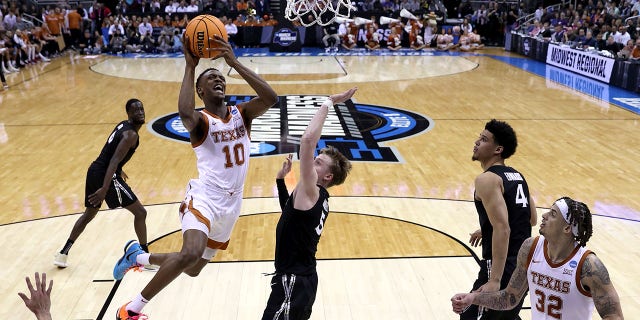 When he returned to the bench, he was wearing a large walking boot, a black hoodie, and a grim expression.
«It's going to be day-to-day at the moment,» Terry said. «We have the best in the business working with us.»
Still, the Longhorns already had a tough task ahead of them in No. 5 seed Miami on Sunday night, especially given the way the Hurricanes triumphed 89-75 over Houston. The prospect of playing without Disu, who led the Longhorns to a Big 12 Tournament title and won MVP honors on the same floor just two weeks ago, only makes it more difficult.
«We knew before the game that we wouldn't have Dylan for the whole game,» Carr said. «We just wanted to really play for him. We knew how much this would mean to him. We got excited right there, knowing he wouldn't be there.»
Relegated to a 6-foot-9 cheerleader on Friday night, Disu at least had a lot to celebrate.
Sir'Jabari Rice scored 16 points and Timmy Allen added 11 for the Longhorns (29-8). The top seeded team remaining in the tournament kept the perimeter threats of Souley Boum and Xavier in check while making life miserable for Jack Nunge.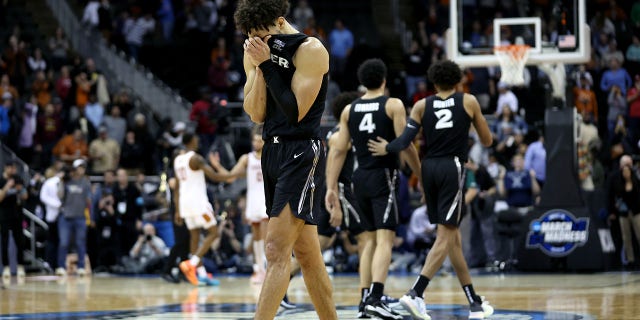 Adam Kunkel hit five 3-pointers and led the third-seeded Musketeers (27-10) with 21 points. Nunge scored 15 but needed 19 shots to get there, while Colby Jones also had 15 points. Boum didn't make a field goal until early in the second half and finished with 12.
«They were better than us,» Xavier's trainer, Sean Miller, said. «We had a very difficult time managing our offense, and that's a testament to their defense, because we were able to score pretty much every game we played this year.»
However, it was Texas who scored at will, and Carr who got them going. He spun through the lane like a Tilt-A-Whirl for hard cubes on the edge, and even brought down a desperate, spinning 3-pointer as the shot clock expired. And when Miller traded a man-to-man defense for a zone, the Longhorns began hitting Bishop in the paint.
With dozens of family and friends present, Creighton's transfer from Lee's Summit, Missouri, a suburb of Kansas City, worked. Bishop threw a dunk on Carr's alley-oop lob, then scored another a few minutes later.
By the time Allen banked on a midcourt flip, the Longhorns had established a 42-25 halftime lead and had to be redirected from the Xavier Tunnel, where they were busy celebrating, to their own locker room.
«Their rushing is something you can't really simulate until you're in the game against them. Their toughness, their experience,» Miller said. «And then offensively, they have a great guard game, and you feel that as well.»
Xavier tried to sneak back a few times, but the Longhorns never let their leader sniff out a single digit. And that gave Terry, who returned to Texas after holding management positions at Fresno State and UTEP, a chance to take a deep breath and enjoy the moment.
The 54-year-old from the small Texan town of Angleton was on Rick Barnes' team the last time the Longhorns reached the Elite Eight, back in 2008. He was on the 2003 team that led them to the Final Four, too.
CLICK HERE TO GET THE FOX NEWS APP
Now, he's one step away from taking Texas on the most unlikely trip to college basketball's biggest stage.
«Keep wanting more. I mean, every round, don't be satisfied,» Terry said. «We're going to enjoy this win for one night, like we've done all year, and we're going to be in the next challenge and very quickly against a very good team from Miami.»