The NASCAR Cup Series returned to North Wilkesboro Speedway on Sunday night for the annual All-Star Race, and fans got to watch Kyle Larson dominate on the track and battle it out in the stands.
As the stock cars sped down the track, two men in the stands of the North Carolina Turnpike were fighting. A man in a white shirt and another man in a gray shirt began to grapple as racegoers moved out of the way.
CLICK HERE FOR MORE SPORTS COVERAGE ON FOXNEWS.COM
It is not clear what precipitated the fight.
The man in the white shirt landed a few punches before officers moved in to break up the melee.
Meanwhile, for Larson, he earned a million dollars for the victory in the All-Star race. It was the third time he had won the NASCAR event. He led Bubba Wallace by more than 4.5 seconds and Tyler Reddick by more than 6.7 seconds.
NASCAR DRIVER AKINORI OGATA'S TRUCK CATCHED ON FIRE DURING PRACTICE ROUND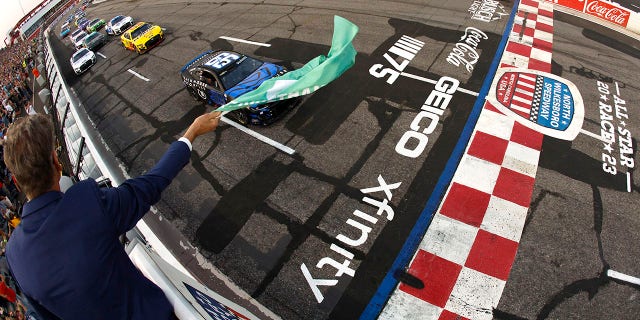 «We had a great car going through the long runs and I was thinking there was going to be a caution for sure,» said Larson, who also won the Truck Series race on Saturday. «I got to a big lead and I could see everyone's cars were driving like crap in front of me.»
Wallace doffed his hat to Larson.
«Larson was off, so congratulations to him,» Wallace said. «They've been hitting heads all season, so running second behind them isn't a bad thing. But running second in the All-Star race sucks because you go home with nothing.»
CLICK HERE TO GET THE FOX NEWS APP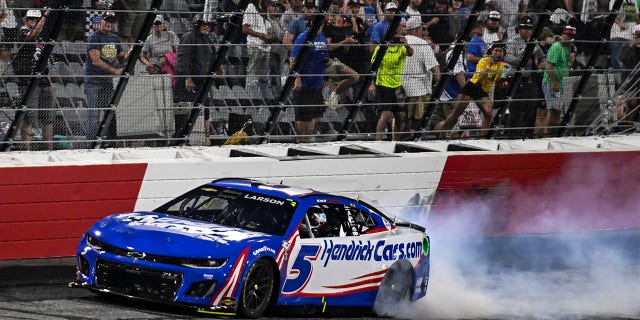 The NASCAR season shifts to Charlotte next weekend as the playoff chase continues.
Associated Press contributed to this report.