Jayson Tatum missed his first six 3-pointers before hitting two straight 3-pointers late in the game that pushed the Celtics past the Philadelphia 76ers 95-86 on Thursday night to send the Eastern Conference semifinals back to Boston for the game 7.
The defending conference champions are in familiar territory. Boston trailed 3-2 last season in the second round against Milwaukee before winning Game 6 on the road and the decider at home.
Game 7 is on Sunday.
CLICK HERE FOR MORE SPORTS COVERAGE ON FOXNEWS.COM
Tatum, who averaged 30.1 points in the regular season, never stopped shooting even though they kept missing. He missed 14 of his first 15 floor shots overall and his ineffectiveness was a key reason the Celtics couldn't hold a 16-point lead.
With a shot at their first conference finals since 2001 on the line, the Sixers stormed through the first half before Joel Embiid showed his MVP form and led the Sixers to a fourth-quarter lead.
Tyrese Maxey made two free throws with 5:25 left for an 83-81 lead.
And that was it for Philadelphia.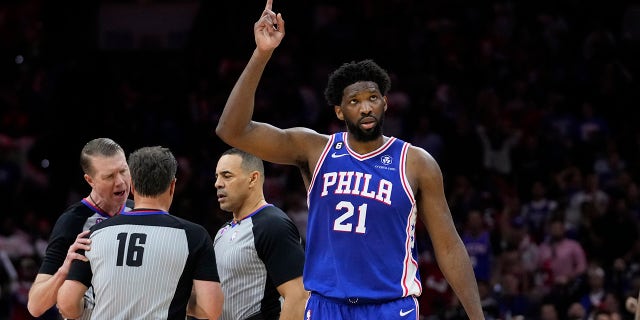 LAKERS' LEBRON JAMES RESPONDS TO STEVE KERR'S FAILED COMMENTS: 'THAT'S NOT US'
Tatum buried a 3-pointer for an 84-83 lead and a second that made it 87-83 and put the Celtics in firm control of Game 6.
Embiid and Tyrese Maxey each had 26 points for the 76ers.
76ers coach Doc Rivers has blown three 3-1 leads in his playoff career. While the 76ers never got that far, this is their second home loss in the series and they seemingly picked up momentum in the fourth quarter.
Tatum, on the other hand, stopped the 76ers with a final 3-point dagger for a 95-84 lead.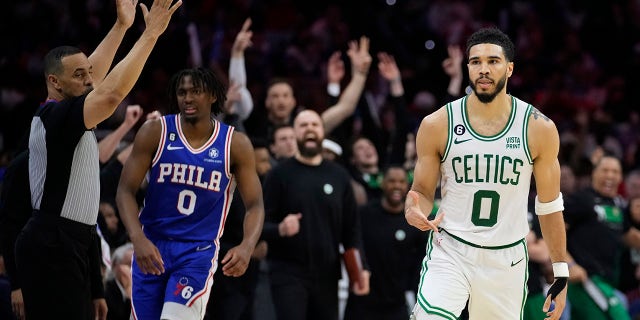 CLICK HERE TO GET THE FOX NEWS APP
Tatum missed all 10 shots, including five 3-point attempts, in the first half as the Celtics led by seven. Tatum has said he may need surgery on his left wrist this offseason following a hard fall. Whatever the cause of his shooting woes, he found the cure in the final 12 minutes and the Eastern champions still have life.