A member of Erik Jones' pit crew will undergo concussion protocol after being hospitalized Sunday night for injuries sustained during the NASCAR Cup Series race at World Wide Technology Raceway in Madison, Ill., near St. Louis, Joe Gibbs Racing announced Monday.
Thomas Hatcher, Jones' front tire changer, was admitted to St. Louis University Hospital after he was injured following a reported collision with another crew member as the No. 43 car pitted on lap 180 during the Enjoy Illinois 300.
Joe Gibbs Racing (JGR) pit crew member Thomas Hatcher has been evaluated and released from St. Louis University Hospital following Sunday's NASCAR Cup Series race at World Wide Technology Raceway. read in the statement.
NASCAR'S STEVE PHELPS ON CHASE ELLIOTT'S SUSPENSION: 'WE HATE IT BUT IT'S A CALL WE NEED TO MAKE'
«After an initial evaluation at the Infield Care Center at the track, he was transported to the hospital for further testing. Hatcher has been released and returned home. He will undergo NASCAR's concussion protocol this week and his status will be updated. for this week. .»
Announcers during the FOX Sports broadcast of the race on Sunday indicated that Hatcher «tangled» with another tire carrier during the race before falling to the ground and being carried away on a stretcher. Other reports described it as a «head-on» collision.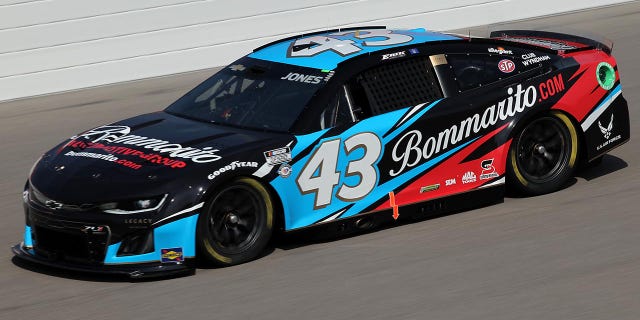 Joe Gibbs Racing did not provide further details on the nature of Hatcher's injury.
CLICK HERE FOR MORE SPORTS COVERAGE ON FOXNEWS.COM
«I'm just praying for him right now,» Jones said after Sunday night's race.
«I think everyone was a bit late with the [No. 3] in front of us, and then we went inside as usual. Like I said, it's hard for me. It all happened so fast, right, I can't really put it all together. So, I got to see him and see him again, but like I said, thinking of Hatcher and his family and I hope to talk to him here soon.»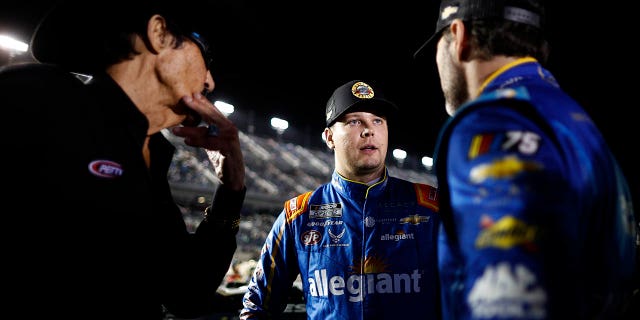 CLICK HERE TO GET THE FOX NEWS APP
A crew member from Denny Hamlin's team was also injured Sunday night.
AJ Rosini broke his canine tooth in half and required 8 to 12 stitches after an air regulator broke, forcing the hose back and hitting him in the face. The FOX Sports broadcast captured a smiling Rosini still on pit road after the incident.