Quarterback Dylan Raiola, the number one recruit of the class of 2024, has announced that he is heading to the University of Georgia for his collegiate career.
Raiola made the announcement via social media that he will head to Athens after finishing his senior year at Pinnacle High School in Phoenix.
«Athens, GA is my home! I'm a Dawg! Go Dawgs,» he wrote on Twitter with a photo of himself in a Bulldogs uniform.
CLICK HERE FOR MORE SPORTS COVERAGE ON FOXNEWS.COM
Raiola, a 6-foot-3, 220-pound quarterback, previously committed to Ohio State University in May 2022. But he opted out just a few months later in December, and his father, the former lineman for the NFL Dominic Raiola said he would be thorough before making his decision next time.
Speaking to ESPN, Raiola explained why the Bulldogs were right for him this time around.
«There's a culture and a standard that appealed to me,» he explained. «The more time that passed, the stronger I felt about Georgia and it ultimately led me to this decision.
«I learned a lot from my first experience. This time, I took my time and never felt rushed or pressured to commit. I was able to have conversations with my family, my pastors and mentors. The stability allowed me to be still, be patient and let God Guide me».
GEORGIA FOOTBALL'S JAMAAL JARRETT APOLOGIZES AFTER SAYING RACIALLY INSENSITIVE REMARKS DURING NFL DRAFT
Ohio State was first chosen over his father's alma mater, Nebraska, as well as other powerhouses such as Alabama, Texas, Notre Dame, Oregon, and USC. Georgia also made the list for the first time.
With this decision, Raiola was reportedly considering Nebraska and USC along with Georgia.
Raiola transferred from Chandler High School to Pinnacle after his split from Ohio State. The junior year he saw 2,435 passing yards with 22 touchdowns to five interceptions, while his sophomore season was even better with 3,341 passing yards, 32 touchdowns and five interceptions. He also had 11 rushing touchdowns in the past two seasons.
Heading into his senior season, Raiola is likely to put up more great numbers before heading to Athens, where he is likely to meet some stiff competition. Carson Beck is expected to start for the Bulldogs this year as a redshirt junior, so he'll likely be there in 2024 as a senior.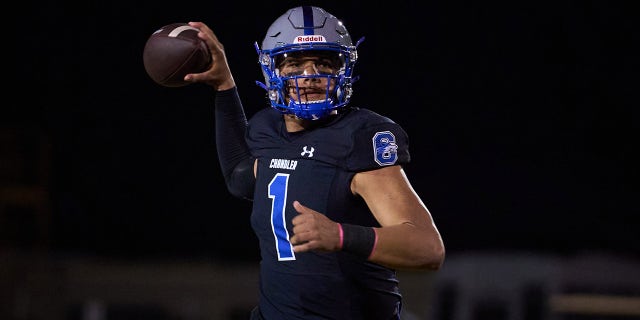 There's also Gunner Stockton, an ESPN 300 recruit who joined the Bulldogs last year, and Brock Vandagriff also on the depth chart. Both will be juniors when Raiola arrives on campus.
Raiola will have to earn his starts, but he is prepared to do everything he can on and off the field.
«Georgia's program is not based on one person or one position group,» Raiola told ESPN. «I am committed to growing and developing as a person and student-athlete. I am excited to work with Coach [Mike] goofy and coach [Montgomery] VanGorder.
GEORGIA'S KIRBY SMART INSISTS THAT THERE ARE NO POLITICAL MOTIVES BEHIND THE REJECTION OF THE WHITE HOUSE INVITATION
«It's pretty unique how this will come full circle as Coach Bobo developed Uncle Matthew [Stafford] during his time in Georgia».
Raiola joined Ellis Robinson IV, a cornerback, as another five-star recruit landing back-to-back national champions. Head coach Kirby Smart's group continues to source top prospects to bolster a fledgling SEC dynasty.
And, of course, that plays a big role in Raiola's decision.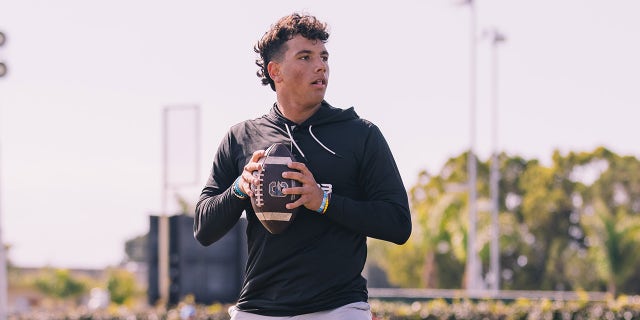 CLICK HERE TO GET THE FOX NEWS APP
«Coach Smart has built this program to last, and I'm excited and honored to be a part of it,» he said.