Cincinnati Reds manager David Bell was around long enough Sunday to see his team score its first run in three games, but he didn't stick around for the final score against the Milwaukee Brewers.
After first baseman Spencer Steer struck out looking at a pitch by Brewers starter Adrian Houser in the bottom of the second inning, Bell came out of the dugout and was immediately ejected by home plate umpire Edwin Jimenez. Bell seemed to take issue with the strike zone and pointed to the plate.
CLICK HERE FOR MORE SPORTS COVERAGE ON FOXNEWS.COM
Bell drew the rim around the plate as he continued to nibble on Jimenez's ear. Crew chief Brian O'Nora had to get between Bell and Jimenez to get the manager to shower. Bell was jumping up and down to try and get around O'Nora as he hit Jimenez and yelled.
Fans at the Great American Ballpark cheered as Bell walked out of the game.
FAN RUNS TO YANKEES INFIELDER ANTHONY VOLPE DURING THE GAME: 'I WAS VERY SHOCKED'
Bell has been ejected 25 times since he took over as manager before the 2019 season.
Unfortunately, Cincinnati's lead did not hold. The Brewers would win again, 4-3, thanks to rookie Andruw Monasterio's tiebreaking single in the eighth. Milwaukee scored two in the inning to win the game.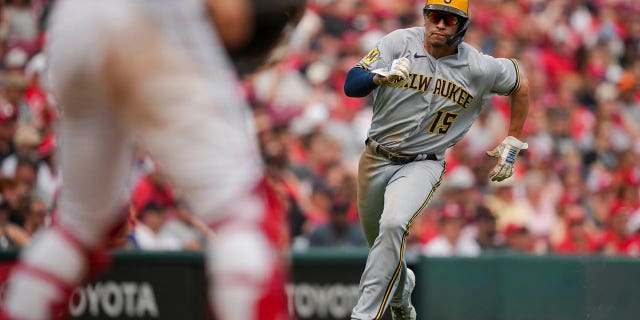 «Just keep going,» Bell said of the series. «It was a tough series. They played tough against us in Milwaukee, too. You can't do too much. We'll get back to normal.»
Milwaukee swept Cincinnati in the series and leads them by two games in the NL Central. It's their first division lead since May 25.
CLICK HERE TO GET THE FOX NEWS APP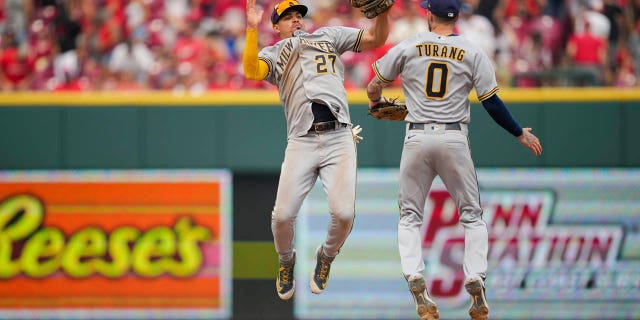 «It was a big series,» Brewers manager Craig Counsell said. «We did our job. You go into a road series and sweep it, you had a great series. We have three games left with them, soon. But it's a great series for us to get off to a great start in the second.» half.»
Associated Press contributed to this report.