Buffalo Bills safety Damar Hamlin, who is working on his return to the field after going into cardiac arrest during a game in January, has been selected as the 2023 George Halas Award recipient.
The Professional Football Writers of America announced Monday the 55th recipient of the award, which is given to an NFL player, coach or staff member who overcomes adversity to succeed.
FORMER BILLS PUNTER MATT ARAIZA SENDS NEW PIECE OF TEST TO NFL TEAMS IN HOPES OF RETURN: REPORT
Hamlin went into cardiac arrest during a nationally televised game on January 2 after making a tackle on a Cincinnati Bengals receiver. He got up but collapsed and had to be revived on the field. The 24-year-old was taken to the University of Cincinnati Medical Center in critical condition and spent a week there before being flown to Buffalo for further treatment. He was released on January 11.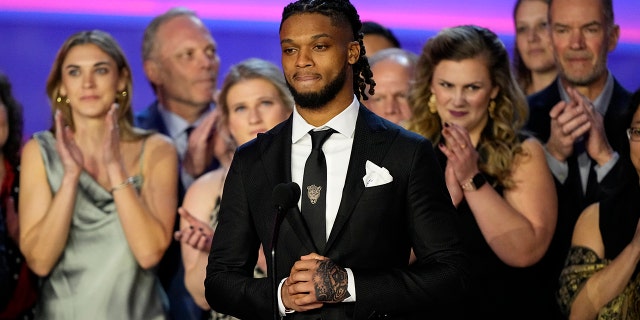 CLICK HERE FOR MORE SPORTS COVERAGE ON FOXNEWS.COM
He said last month that his doctors concluded that a blow to his chest caused his heart to stop. The rare condition, called commotio cordis, occurs when a hard blow to the chest causes the heart to shudder and stop pumping blood efficiently, leading to sudden cardiac arrest.
Hamlin was cleared to return to play and participated in the Bills' voluntary training program last month.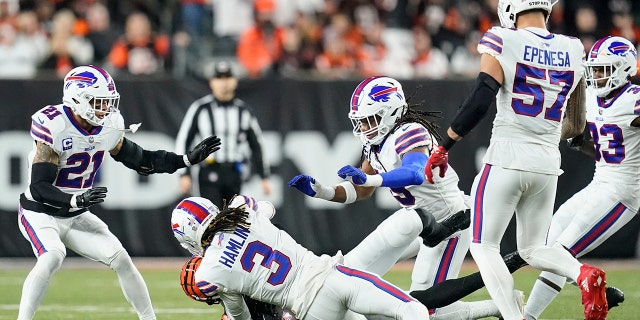 CLICK HERE TO GET THE FOX NEWS APP
Halas' other finalists were Giants running back Saquon Barkley, 49ers running back Christian McCaffrey, Commanders running back Brian Robinson Jr., and Seahawks quarterback Geno Smith.