Milwaukee Brewers first baseman Rowdy Tellez underwent surgery on his left ring finger after injuring it during pregame warmups and will miss another four weeks.
Brewers manager Craig Counsell said Tellez was throwing fly balls in the outfield Saturday and caught his finger in the padding on the center field wall. Tellez tore out his nail and had to undergo surgery to insert 17 stitches to repair a small fracture on the tip of his finger. He was on his way back to Philadelphia on Tuesday.
«It was a freak accident,» Counsell said Sunday. «He wasn't running, he wasn't speeding, believe me. I actually saw him. He looked like a very innocent thing. It probably means we won't see him back with us for four weeks.»
CLICK HERE FOR MORE SPORTS COVERAGE ON FOXNEWS.COM
Téllez is not expected to resume baseball activity for another two or three weeks. He has been on the disabled list since July 5 with right forearm swelling.
Tellez is hitting .213 with 12 home runs and 36 RBIs. Owen Miller is expected to get most of the playing time at first base.
DAVID BELL OF THE REDS LOSES HIS COOL WITH THE REFEREE DURING GAME AGAINST THE BREWERS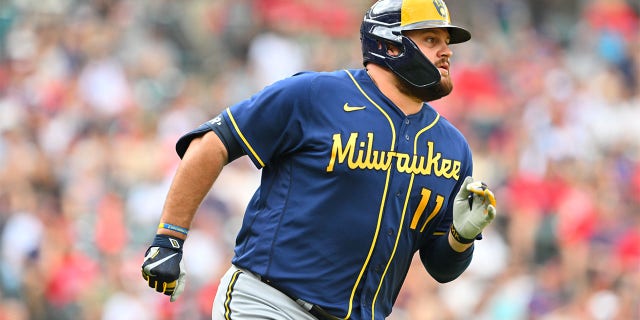 On June 2, Brewers infielder/designated hitter Darin Ruf cut his knee when he collided with the canvas roller while chasing a foul ball in Cincinnati.
«Our coaches aren't happy with what's going on at Great American Ball Park,» Counsell joked.
CLICK HERE TO GET THE FOX NEWS APP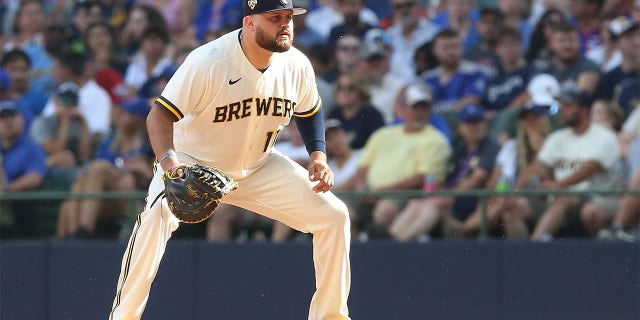 Also Sunday, the Brewers placed third baseman Brian Anderson on the 10-day disabled list, retroactive to Friday, with a lower back injury. Infielder Jahmai Jones was recalled from Triple-A Nashville.
«As we went through yesterday, it wasn't very good,» Counsell said of Anderson. «The likelihood of him playing in the Philadelphia series became pretty slim, so it made sense to put him on the disabled list.»
Anderson is hitting .229 with nine home runs and 38 RBIs in 292 at-bats.