Two people, including an 18-year-old man who just graduated, were killed and five others wounded in a shooting Tuesday after a high school graduation ceremony held on the Virginia Commonwealth University campus, Richmond police said. .
One of the two people initially arrested, a 19-year-old man, was a suspect in the shooting, acting Richmond Police Chief Rick Edwards said at a news conference. A second person who was detained was not involved, he said.
The suspect, who has not been publicly identified, faces two counts of second-degree murder, the acting chief said. Authorities believe the suspect knew at least one of the victims, he said.
The deceased were identified as an 18-year-old student who had just graduated and a 36-year-old man who was there for the ceremony, Edwards said. Police have not released their names.
The five wounded victims, all men, range in age from 14 to 58, he said.
One of the victims, 31, was being treated for life-threatening injuries, and four had injuries that were not considered life-threatening, police said.
Six other people sought treatment for conditions including anxiety and falls, police said. One of them was a 9-year-old boy who was struck by a car, treated at the scene and released, then treated at a hospital, where the boy remained, Edwards said.
VCU Medical Center in Richmond said it had received six patients whose condition ranged from serious to critical, spokeswoman Danielle Pierce said by email.
«The children participated here in a graduation,» said Mayor Levar M. Stoney. «This is tragic but also traumatic. Because this is her graduation day.»
The shooting took place in Monroe Park, an open space on campus, at 5:13 p.m., authorities said. Four firearms were recovered from the scene, Edwards said.
The Huguenot High School graduation was scheduled for Tuesday at 4 p.m. at the Altria Theater, adjacent to the park, according to the school's website.
In a notice posted on the Richmond Public Schools website, the district said the shooting took place in the park after the graduation ceremony. He said that all schools in the district would be closed on Wednesday and that all high school graduations this week have been cancelled.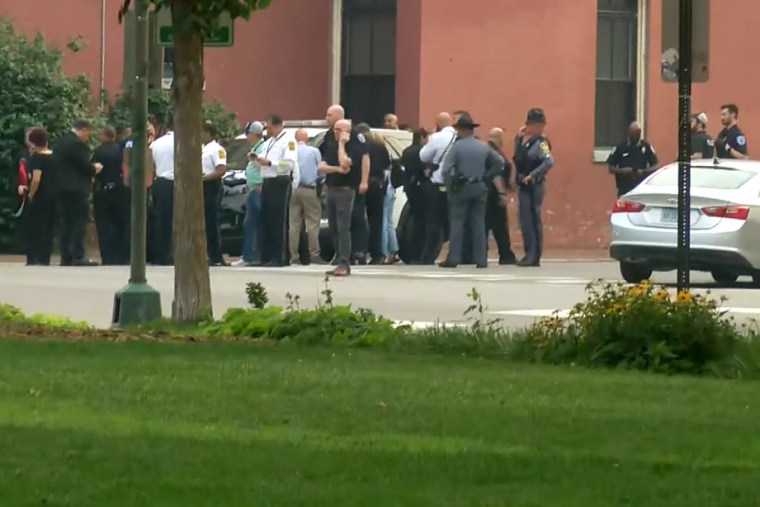 The university initially said the shooting was part of an «active threat» on campus. School officials later said in a campus alert: «There is no ongoing threat to the community, but there is a heavy police presence in Monroe Park.»
On Tuesday night, the President of the Commonwealth of Virginia, Michael Rao tweeted: «Graduations should be moments of happiness and celebration. Today's shooting is heartbreaking and shocking.»
This is a developing history. Please check for updates.
Gemma Di Casimirro and lindsey pipia contributed.